Funded by the Perspectief Initiative from NWO, the ENLIGHTEN project (Enabling Integrated Lightweight Structures in High-Volumes) ultimately aims to provide solutions for sustainable transport.
The research programme is led by Prof. Remko Akkerman and will focus on the large-scale applicability of thermoplastic composites (TPC's) in the aerospace and automotive applications.  TPC's offer all characteristics for sustainability: they are lightweight and strong, energy-efficient to manufacture, and recyclable.
Six universities from the Netherlands and the United Kingdom, together with 17 industrial partners, have formulated five work packages to establish physics-based design and manufacturing systems for integrated thermoplastic composite structures.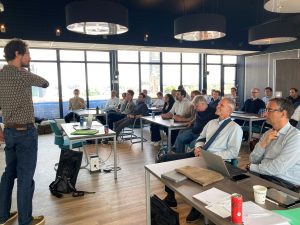 The kick-off meeting took place on the 2nd of June 2022, joined by 40 participants. It was opened by Assistant Professor Wouter Grouve from the University of Twente and Marko Bosman from M2i. An interactive session led by Daan Brokken from NWO, was followed by a fruitful discussion about the overall aim of the project.