The 2-days kick-off meeting took place on the 16th and 17th of March and it was hosted by NWO in Utrecht and is funded by the Dutch Research Council (NWO) under the NWO Perspectief 2020-2021 AES initiative. The Circular Circuits project aims to develop a fully circular generation of electronics.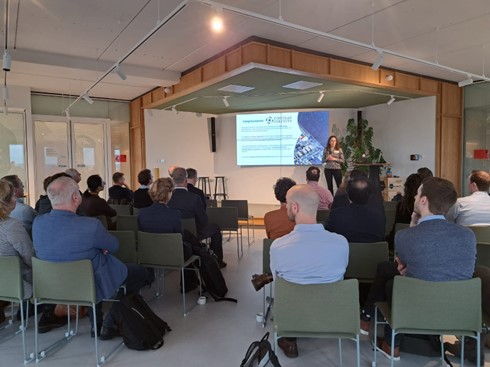 The research program is led by Prof. Arnold Tukker of Leiden University and will focus on developing solutions to overcome technical, economic and societal bottlenecks for lifetime extension, reuse, repair, refurbishment and recycling through development of a new generation of electronic components, product-service design, new business models and advanced recycling technology. Many other scientific partners including TU Delft, TU Eindhoven, Erasmus University Rotterdam, Radboud University, Saxion Hogeschool, Rotterdam University of Applied Sciences and TNO are involved.
The project is supported by more than 20 industrial parties ready to actively influence the current way of design and use of the electronics components. During the Kick-off all parties and work package leaders presented their view on tackling the sustainability problems, industrial needs and expected outcomes. In this project, led by Benjamin Sprecher of TU Delft, a postdoctoral researcher will collaborate with TNO, ASML and Action to develop a universally applicable tool to support early-stage decision making for designing circular products. 
Circularity and carbon neutrality have been receiving increasing attention within the Dutch economy. Yet, major steppingstones to such a transition are still lacking. One such steppingstone relates to the design of circular and carbon-neutral products: How do we design truly circular and environmentally friendly products?  
This project is set up to fill the current knowledge gap for high-quality early-stage assessments and to assist, in the long run, product designers in their early-stage decision making. On the project scale the objective is twofold. First, a set of new and highly circular products for the partners ASML, Action and TNO will be developed collaboratively. In a second step, the lessons learned from these intrinsically different products will be synergised to create a scientifically validated early-stage circular design tool, the Early-Stage Environmental Decisions tool, or ESED tool in short. It will be a universally and industrially applicable tool which matches the design process and the information available at each stage of the design process – a steady support for the product designer throughout the entirety of the design process, to make high-quality circular design decisions.