The project QUALIFY (Enabling Qualification of Hybrid Structures for Lightweight and Safe Maritime Transport), co-funded by the INTERREG 2SeasMers Zeeën Programme, aims to remove the technological and regulatory barriers that currently prevent the widespread application of hybrid primary structures (metal/composite) in the maritime industry.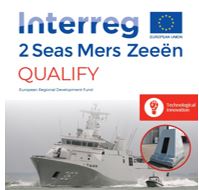 The QUALIFY consortium brings together the expertise of Cambridge University on micromechanical modelling, TU Delft on characterisation and modelling of environmental effects on the operational lifetime of marine structures, Ghent University on accelerated testing methodology to reflect 20 years of operational life in one month of testing, industrial end users with experience and interest in hybrid structures such as DAMEN, BAE Systems, Parkwind, and the expertise of classification societies such as Lloyd's Register and Bureau Veritas, as well as management and dissemination capabilities of M2i.
Two QUALIFY sessions, encompassing five talks on end-user perspective on real life applications, water transport processes and stability of adhesive-steel interface, structural integrity of bi-material thick adhesive joints: a multi-scale approach, corrosion mechanisms, and progress towards guidance for the certification of marine hybrid adhesive joints, will be part of the Meeting Materials Conference, online event, organised by M2i, 4TU.HTM, and Bond voor Materialenkennis. The sessions will be chaired by Professor Wim de Waele from Ghent University, Belgium, which is the leader of the work on long term performance of hybrid structures.
Please join us for the QUALIFY sessions at the Meeting Materials conference, online event, on 15th of December. The conference is open for registration with FREE admission. The  program can be found here. We are looking forward to your participation.
For more information regarding this project please visit the project website.