Micky Adriaansens, Minister of Economic Affairs and Climate Policy, visited the AiM2XL consortium on 20th March, 2023 at RAMLAB in Rotterdam to learn more about the AiM2XL program. "Additive Manufacturing of Large-scale components" (AiM2XL) is a Perspectief program that started five years ago with funding from the Dutch Research Council TTW-NWO and is led by prof. Fred van Keulen from TU Delft.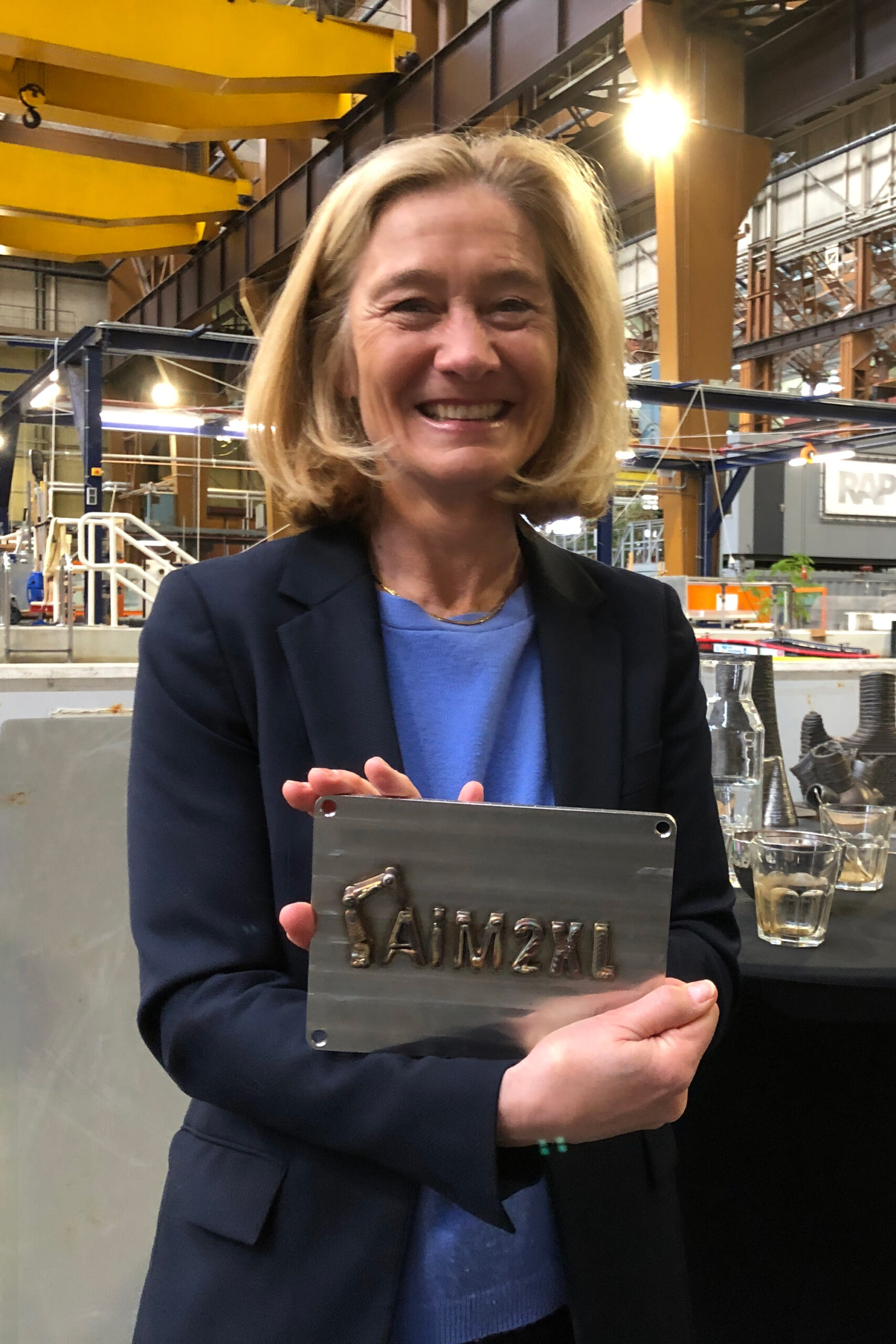 The project focuses on using wire-arc additive manufacturing (WAAM) as one of the additive manufacturing technologies allowing the production of large 3D metallic components in the order of 1 to 10 m, by depositing material layer by layer. Due to its high deposition rate and low capital investment, the costs for WAAM are much lower than other AM technologies. However, WAAM still faces some barriers that prevents its full exploitation. To find solutions, M2i together with RAMLAB aligned four Dutch universities, TU Delft, TU/e, UT and RUG, and a significant number of industrial partners across the entire value chain, including: Air Liquide BV, Allseas, Autodesk, Damen, Element Materials Technology, Fokker Technologies Holding BV, Heerema Fabrication Group, Huisman, Jungle, Lincoln Electric BV, Lloyd's Register EMEA, MX3D, OCAS NV, Shell, Trumpf Nederland BV, Valk Welding BV and VandeGrijp International Gear Suppliers BV. This ambitious fundamental research program was designed to deliver:
Realisation of 3D topology optimisation strategies that, in addition to structural layout, account for local material properties resulting from the process flow.
Inclusion of the deposition trajectory required for the generation of desired (local) properties in 3D topology optimisations.
Models that can predict microstructures morphologies, phase fractions and material compositions as a function of the total thermal-mechanical history of a manufactured component.
Advanced numerical models to predict the thermal distribution throughout the component during construction and to predict stress evolution and resultant strain fields, taking into account the influence of work hardening on each 3D volume element.
Novel process monitoring and adaptive control tools to ensure that the deposition process can be regulated with sufficient accuracy to realise pre-defined microstructures and properties.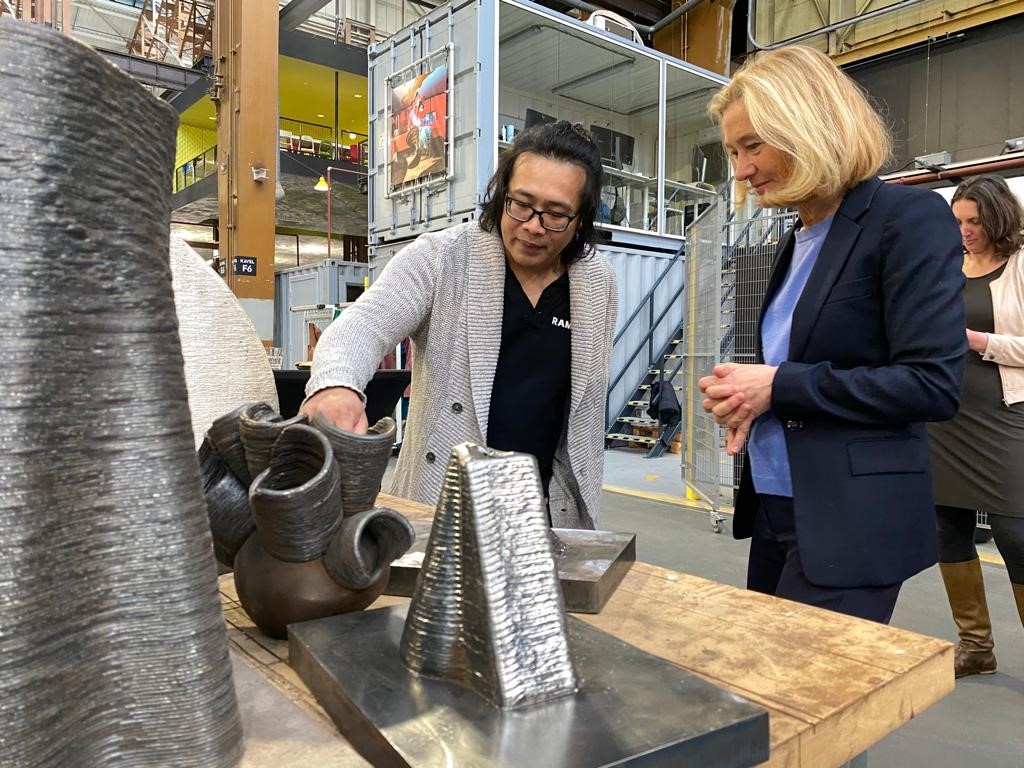 The event on the 20th March was initiated by NWO to showcase a successful Perspectief project. The AiM2XL consortium took this opportunity to engage Micky Adriaansens in discussions about WAAM technology development, the project outcomes and the cooperation between the partners. The partners explained that the AiM2XL program opens a new realm on how large-scale metallic products will be made in the future and believe that the program outcomes put the Netherlands in a leading position for extra-large component production via WAAM. The AiM2XL consortium further demonstrated the project breakthroughs on two demonstrators: the lifting lug and the ship rudder.
Lifting lugs are widely used in maritime and aerospace applications as structural supports for pin connections or lifting. This demonstrator was realised by RAMLAB.
Timo Kreule from Damen, one of the program partners, presented a new topology optimized ship rudder design, which provides a 30 % mass reduction compering to current industry state-of-the art without compromising on properties. The real metal product is currently being produced by MX3D and will be presented during the program closure meeting. A small-scale version of the rudder made from plastic was given to the Minister as a present.
Micky Adriaansens was impressed by the presentations and has acknowledged the importance of joint research and development initiatives between industry and academia.