On 29 March, the Interreg 2Seas project 3DMed will be concluded with its final event. Within the project the consortium has advanced the state-of-the-art of 3D printing technologies for medical applications and streamlined the integration through a software aided workflow.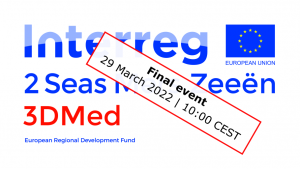 An essential part of this project was the creation of patient-specific protheses, implants and orthoses – all designed based on individual patient scans. Adopting finite element (FE) simulations in combination with topology optimisation, the created designs were then optimised with respect their weight while guaranteeing a high functionality. That is where M2i became involved. Focusing on the applicability of the FE assisted workflow in an industrial setting we concentrated on the three fundamental pillars:
reliability and high functionality of the optimised design through constantly ensuring the accuracy of the FE models;
fast product delivery through a computational speedup of the design optimisation process by >500% as compared to conventional methods;
user-friendliness of the design process through an Abaqus plugin for the semi-automated setup of the required FE models and the related optimisation process.
The final event will take place under the umbrella of the 3D Medical printing series, a hybrid conference organised in the Mikrocentrum, Veldhoven, The Netherlands. Follow the links for more information about the programme and to register.