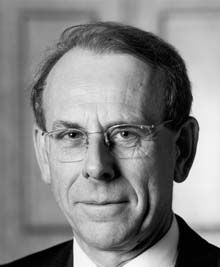 We are proud to announce that our former Cluster leader and one of the founding fathers of NIMR (former name of M2i) Prof. dr. Jeff Th. M. De Hosson became officially inducted as Elected Member 2016 of the prestigious European Academy of Sciences: 'Academia Europaea'. The Council of the Academia Europaea confirmed at their meeting on 26 June in Cardiff, UK.
The Academia Europaea is a functioning European Academy of Humanities, Letters and Sciences, composed of individual members. Membership is by invitation made only after peer group nomination, scrutiny and confirmation as to the scholarship and eminence of the individual in their chosen field.
About Prof. dr. Jeff Th. M. De Hosson
Professor Jeff Th.M. De Hosson (born 1950) holds a PhD in Physics of the Groningen University (with highest distinction, thesis supervisor Andre Wegener Sleeswijk) and after his postdoctoral years in USA (Northwestern Un. and UCBerkeley) was appointed in 1977 by the Crown to full Professor Applied Physics. His research focuses on the structure-property relationship in structural and functional nanostructured materials, in which ultra-high resolution transmission electron microscopy and surface modification techniques are key issues. He is elected member of the Royal Netherlands Academy of Sciences (division physics), Royal Holland Society for Sciences, editor of 3 international journals, including Scripta Materialia, member of editorial board of 12 journals and elected Fellow of various foreign scientific societies, including TMS and ASM-International. He holds Honorary professorships of Tsinghua Un -Beijing, UST-Beijing and Nelson Mandela Metropolitan Un PortElisabeth –SA. He received a number of international awards, including the Eminent Scientist Medal Wessex-Great Brittain/Un. of Southampton, the prestigious European Materials Gold Medal in 2005 and NanoSmat prize 2009. He published more than 1100 articles and supervised up to 2016 in total 78 PhD theses and 543 Ba/MSc  students.